The minute I saw leggings with heart shapes over the knees on Etsy I added it to my mental craft to do list. I wasn't too keen on the leather patches because, well I'm really not that into leather. I was also worried about how they'd feel when you bent your knees.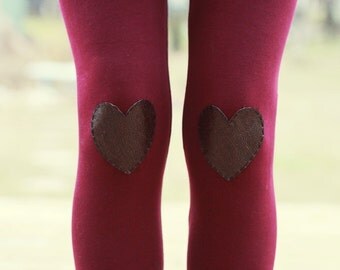 I finally decided a few weeks ago that I was going to bring these to life. I bought some $10 grey leggings and started to think of all the ways that I could add a little something to the knees. First I thought of adding some felt, but then I had a sneaking suspicion that it might shrink in the wash and that I'd be left with some sort of wrinkly puckered scrunch patch. No thanks. I've been pinning embroidery like a bit of a mad woman recently, so maybe it was a better option. After much humming and hawwing I finally decided to do it fairly simple.
Embroidered Heart Leggings
Supplies needed:
Leggings (or any clothing really)
Paper template of your shape
Embroidery floss/cotton
Needle (with an eye big enough for the cotton to fit through)
Scissors (not pictured)
Pins
Cardboard
The first thing I did was to try my leggings on and mark with a pin where my knees were. Then I fiddled around a bit with the size and shape of the heart, as well as the colour of the cotton to make sure it looked alright. I made a paper template of the heart and pinned it onto the knee area of the leggings.
Next step was to get the sewing started. I made a knot by pointing the tail end of the cotton in the opposite direction to the needle, wrapped it twice and then pulled the knot along the length until it reached the end. If you cant make sense of what I just said, or my photos you can go here.
After the cotton was ready I began to back stitch around my template. I had to force myself not to rush so that I could make the stitches fairly even because I'm big on 'just getting it finished' and then hating the final product because of it.
To finish off I just tied a double knot on the underside.
I'm really happy with how they turned out. I'm also glad that I decided to stick with something so simple. I have a bit of a weird thing where I don't like anything too 'loud' on my bottom half. It makes me feel self conscious for some weird reason, so I'm glad that these are cute without being over the top.
Also if you're interested, I sell the little hedgehog pincushion in my Etsy shop, Billy & Elizabeth.
Nicole